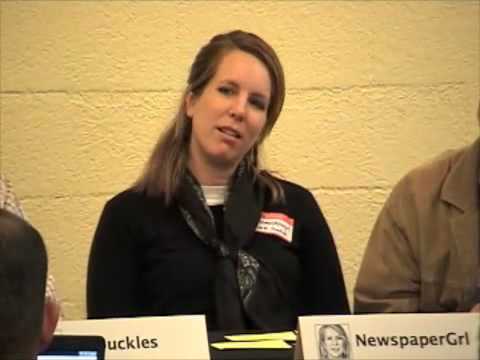 Janet Meiners Thaeler was one of our expert panelists at the CoWork Utah Tweetup last week.
In her introduction, Janet Meiners Thaeler commits herself as a Twitter Addict. She uses Twitter as her own personal news room, and uses it to get traffic to her NewsPaperGrl blog. Twitter has opened doors for her, including getting her a job. She shares a story about her Twitter profile picture, and has purchased artwork online via Twitter. She has achieved success through Twitter and shares some examples of the connections she has made.
Janet Meiners Thaeler's passion is online PR and social media. She is an internet marketer and writer specializing in SEO online press releases and blogging—writing for Marketing Pilgrim and OrangeSoda's blog. She has freelanced for newspapers, City Search, & Connect Magazine. "Why newspapergrl?" she says… "I've always been a fan of newspapers. I like reading them (preferably offline) and have freelanced for a few." You can read all about it at http://www.newspapergrl.com
You can follow Janet Meiners Thaeler on Twitter at: @newspapergrl
Don't forget to follow Social Hat on Twitter for occasional updates on social media marketing, more videos and some awesome interviews.
Wash. Rinse. Retweet.
Special Thanks to Paul Hadley for recording the event, editing, and posting to YouTube.
Social Hat is Jack Hadley and Cary Snowden. Follow us on Twitter.