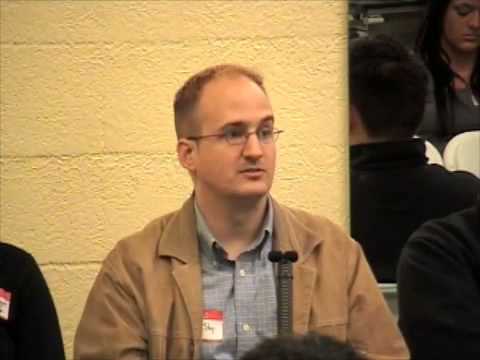 Jesse Stay was one of our expert panelists at the CoWork Utah Tweetup last week.
In this introduction, Jesse Stay shows he is even tweeting while sitting on a panel. Jesse credits a number of his business opportunities and relationships to Twitter, including his current business relationship with Guy Kawasaki. Jesse gives some incredible examples of his successes and opportunities created from relationships established via Twitter. "There is a lot of power in followers on Twitter."
Jesse Stay is a well-known blogger and social media advocate. Famous as 'The Social Geek', Jesse specializes in Facebook, Bebo, MySpace, Twitter, Open Social, and other technologies that enable businesses to better reach their customers in a viral manner. Jesse Stay has developed and consulted for successful social networking applications, some of which currently have over a million users and appear in the top 10 on Facebook. He co-authored two books about Facebook and created SocialToo for Twitter. Find Jesse Stay online at http://staynalive.com/
You can follow Jesse Stay on Twitter at: @jessestay
Don't forget to follow Social Hat on Twitter for occasional updates on social media marketing, more videos and some awesome interviews.
Wash. Rinse. Retweet.
Special Thanks to Paul Hadley for recording the event, editing, and posting to YouTube.
Social Hat is Jack Hadley and Cary Snowden. Follow us on Twitter.