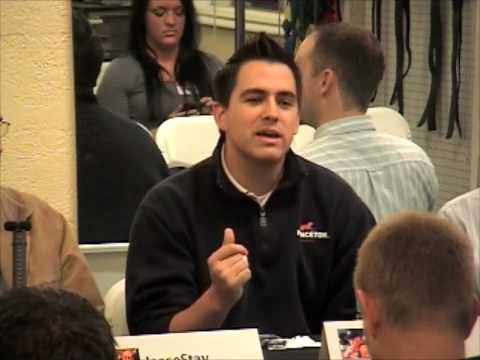 Mick Hagan was one of our expert panelists at the CoWork Utah Tweetup last week.
Mick talks about using Twitter to find new clients and recommends Twitter to conduct research via RSS for specific keywords. He uses Twitter to capture user feedback and understand what is going on with his business, and gives an example of using Twitter to resolve a customer issue, and using Twitter to follow current events.
Mick Hagen left Princeton to start Zinch.com in 2006 and now has more than 600 universities and a half-million students using Zinch.  He was recently named as one of the "Top 40 Professionals Under 40"′ in Utah, and is an avid Twitter user. He's crazy about technology, sports, design and his wife (and, he says, a few other things as well).  You can read all about it on his blog at http://www.mickhagen.com
You can follow Mick Hagan on Twitter at: @mickhagen
Don't forget to follow Social Hat on Twitter for occasional updates on social media marketing, more videos and some awesome interviews.
Wash. Rinse. Retweet.
Special Thanks to Paul Hadley for recording the event, editing, and posting to YouTube.
Social Hat is Jack Hadley and Cary Snowden. Follow us on Twitter.